Posted by Gagoti Shop Admin on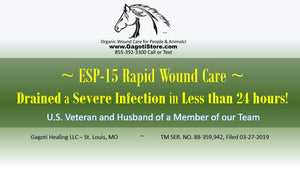 ESP-15 began reducing the pain very shortly  after applying it. This was about 6 PM. We had an appointment at the VA, I believe around 1 PM the next day.
We didn't know what the doctors would say because we took the bandage off and put the herb on but didn't feel we had much choice so figured we'd take our chances.
When the physician took off the bandage, he was surprised and so were we!  The blister had opened & infection was literally stuck to the herb on the bandage & the flesh was red & healthy!! All WITHIN 24 hours!