Posted by Gagoti Shop Admin on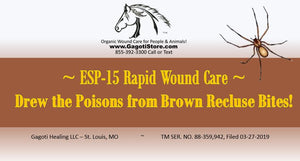 Photos are VERY GRAPHIC & NOT FOR THOSE WITH A WEAK STOMACH OR FAINT OF HEART.
 The timeline images that follow show how ESP-15 not only drew the poison and toxins out of her leg, but brought good blood flow and purification to the wound for a speedy recovery! No reoccurring infection or
 further damage from the bite! 
The lady with the black ring around the bite only used the ESP-15 for 3 hours before taking the before and after photos. She needed to change the bandage by that time to clear off the poisons that were draining!