What's ESP-15?
Posted by Gagoti Shop Admin on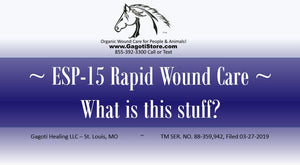 Gagoti Healing is a small business in Missouri with a dedication to providing high quality, highly concentrated organic wound care for people and animals as well as facial cleansers, masks, & moisturizers for fighting acne and anti-aging. Our cleansers, masks, and hair infusion are infused with wound care herbs. 
ESP-15 Rapid Wound Care is a proprietary blend of herbs; inspired by Cherokee. This post includes a video of before and after photos from our animal wound care, people wound care, and acne fighting results. Please BE ADVISED most of the photos in this video are GRAPHIC AND NOT FOR THE FAINT OF HEART OR THOSE WITH A WEAK STOMACH.